I'm linking up with Mel at From the Pond for her Tuesday Art Linky!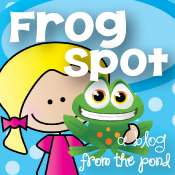 I realised I never shared our wrapping paper that we made for our Mother's Day Presents!
We were lucky that we had our Grade 5/6 buddies come and help us. We cut up normal bench sponges and made stamps!
The big kids cut the stamps and we stamped them – I loved the paper, it looked so good with the present inside! I only forgot to take a picture of the finished product!