I'm linking up with Mel at From the Pond for her Tuesday Art Linky!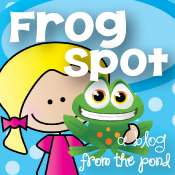 Last week was O week! We made these cute octopuses! The children loved them so much I wasn't allowed to put them up in the classroom, they had to take them home!
First we coloured in an O with orange crayon. We drew the dots first and then did "shading" in the background.
Then we cut 8 legs using our crayon as our length – it was interesting to see how children measured their legs!
Then we put it all together! They turned out so great! Much cuter than I was picturing!